Union says teachers and support staff will return to work Wednesday
About 800 union officers met for more than two hours before vote to suspend strike
Rank and file still need to vote on the new deal
Chicago (CNN) -- Hundreds of thousands of Chicago schools students will return to class Wednesday after the teachers' union voted to suspend its sometimes acrimonious strike that lasted about a week.
Teachers in the third-largest U.S. school system voted Tuesday to end their strike and resume classes.
About 800 union delegates representing the 29,000 teachers and support staff met for more than two hours before they voted to suspend the strike.
Along with teachers and administrators, parents of the 350,000 students who had been out of school for the seven-day strike, were celebrating.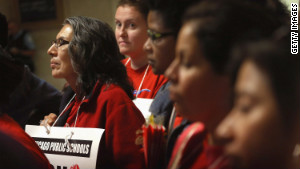 Chicago teachers strike ends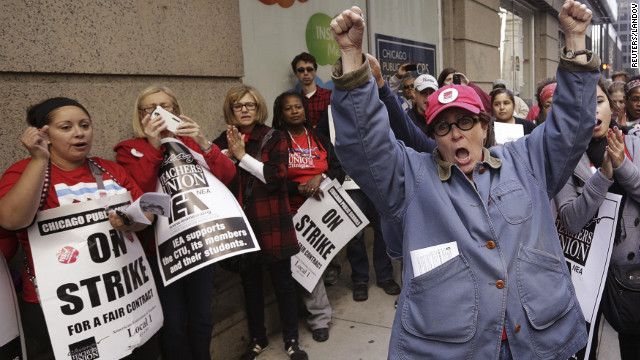 Chicago Teachers Union members picket outside Chicago Public Schools headquarters Tuesday, September 18, as their strike canceled classes for a seventh day. School officials went to court Monday to ask a judge to declare the strike illegal and order the teachers back to work. Union representatives will reconvene Tuesday afternoon to discuss a proposed deal.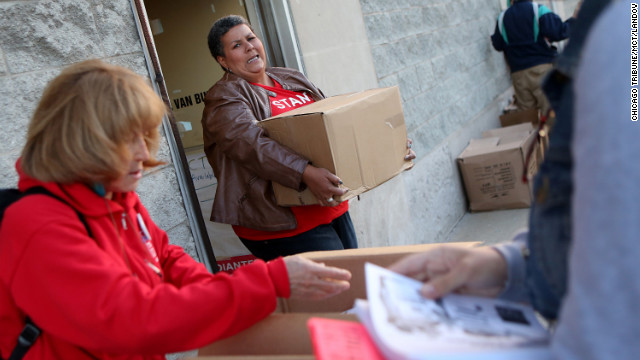 American Federation of Teachers organizer Samantha Jordan, center, carries a box of informational papers for distribution outside of protest locations in Chicago on Tuesday.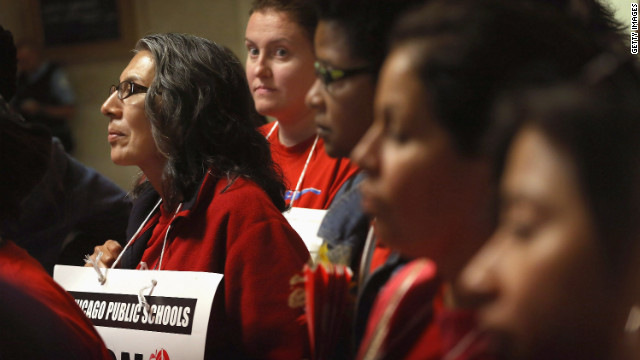 Striking teachers attend a news conference by the Chicago Teachers Solidarity Campaign outside the office of Mayor Rahm Emanuel in Chicago on Monday, September 17. Emanuel sought court action to force teachers back to work.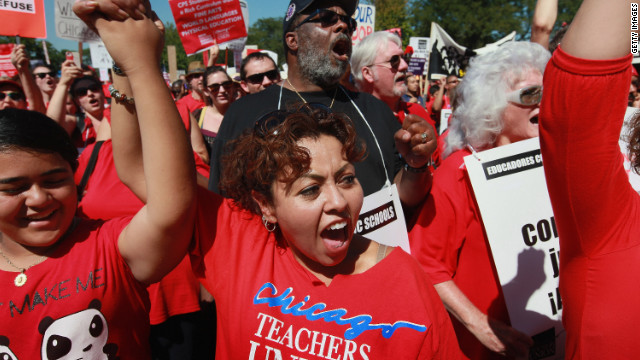 Chicago teachers and their supporters attend a rally at Union Park on Saturday, September 15. An estimated 25,000 people gathered in the park in a show of solidarity.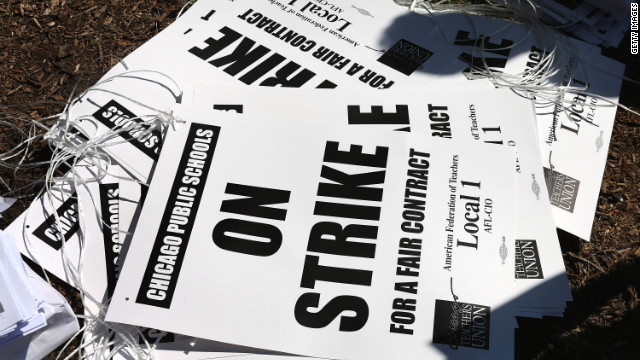 Strike posters are left on the ground in Union Park on Saturday. More than 26,000 teachers and support staff walked off their jobs on September 10 after the union failed to reach an agreement with the city on compensation, benefits and job security.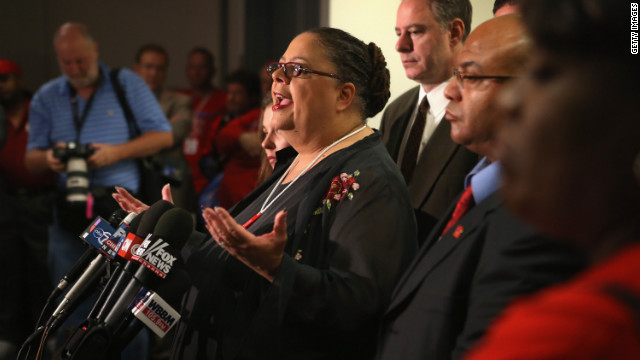 Chicago Teachers Union President Karen Lewis announces a tentative agreement on Friday, September 14, that could have ended the strike. After extensive debate, the delegates said they wanted more time to discuss the contract with union members.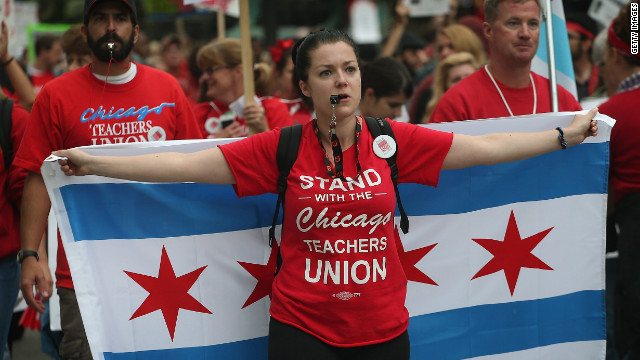 Striking teachers and their supporters march down Michigan Avenue on Thursday, September 13.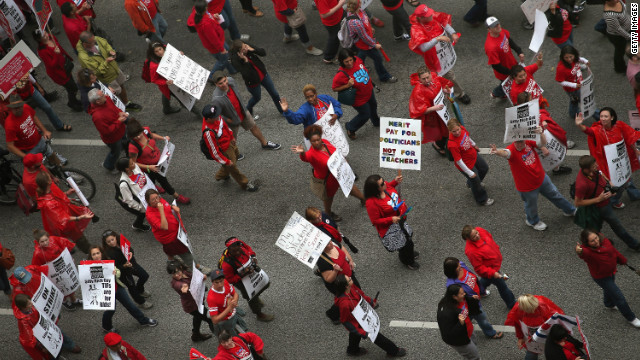 The protesters march down Michigan Avenue on Thursday. Vocal picketing has taken place in and around the city's schools.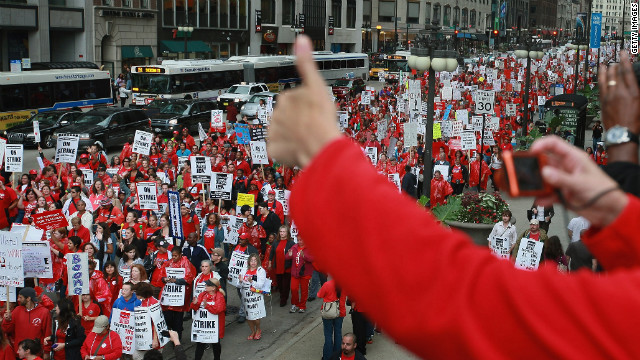 An observer shows her support for the march down Michigan Avenue.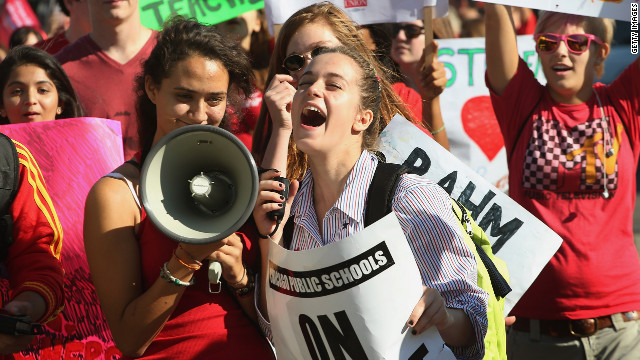 Students picket with Chicago teachers outside Lane Tech College Prep High School on Tuesday, September 11.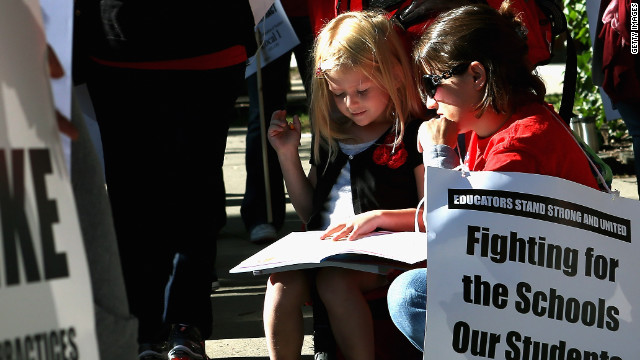 Teacher Jillian Connolly helps her daughter, Mary, study math while picketing outside of William H. Wells Community High School on Monday, September 10.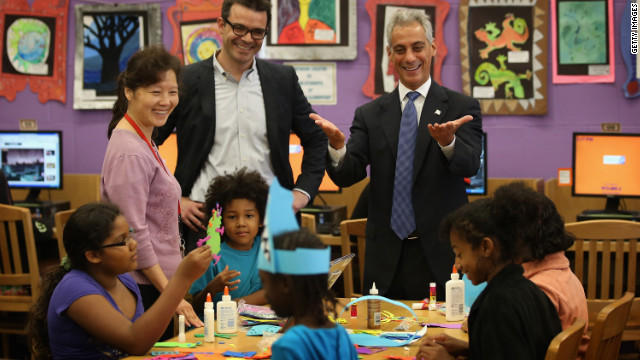 Chicago Mayor Rahm Emanuel, right, visits schoolchildren at Woodson Regional Library on Monday. The library is one of 78 public libraries in the city serving as "safe havens" for students who are not in school because of the strike.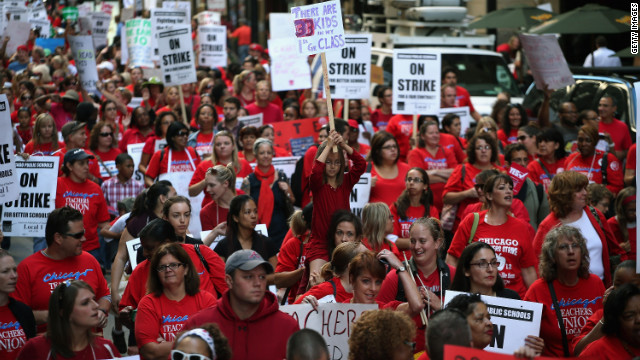 Thousands of teachers and their supporters march in front of the Chicago Public Schools headquarters on Monday. With more than 350,000 students, Chicago is home to the nation's third-largest school system.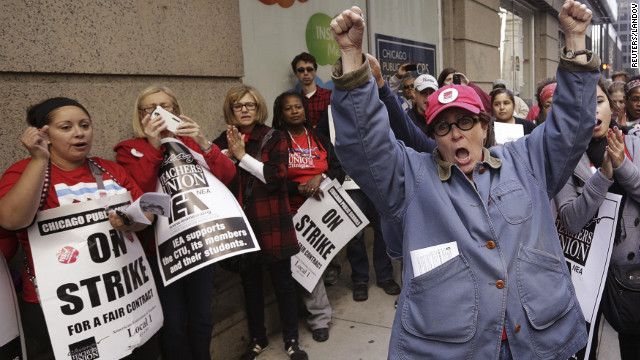 Photos: Chicago teachers strike
"I'm just glad that everyone got what they wanted, but I just wanted the children to be first," Lisa Russell, a parent, told CNN affiliate WLS. "And I believe they are first."
The contract agreement with the school system still needs to be ratified by the teachers and support staff who are members of the union. Karen Lewis, union president, said the rank and file will vote in "the next couple of weeks."
Chicago Public Schools and the union struck a tentative bargain Friday afternoon. But on Sunday, union members decided to continue the walkout while they reviewed the proposal.
Chicago Mayor Rahm Emanuel said the new contract is "an honest compromise."
Emanuel highlighted the fact that the new school day would be longer for many students. He said that a child who enters kindergarten under the terms of the new agreement would receive 2 1/2 more years of instruction by the time he graduated.
"In this contract we gave our children a seat at the table," he said at a news conference.
The new deal will transform the school system to the benefit of teachers and students, said David Vitale, chairman of the school board. He acknowledged the negotiations weren't easy.
Darren Tuggle, who has taught high school English for 13 years, said the strike wasn't about money, but about classroom conditions. He said that teachers were frustrated with the board, whose members are appointed and most of whom came from business backgrounds.
Teachers walked off the job September 10, objecting to a longer school day, evaluations tied to student performance and job losses from school closings
One parent on the impact of the strike
This contract calls for longer school days for elementary and high school-age students, 10 more "instructional days" each school year and a single calendar for the entire school system, as opposed to the two schedules now in place, depending on the school.
The pay structure would change with a 3% pay increase for the first year of the contract, 2% for the second year and 2% for the third year. If a trigger extends the contract to four years, teachers will get a 3% pay increase. Union members would no longer be compensated for unused personal days, health insurance contribution rates would be frozen and the "enhanced pension program" would be eliminated.
As is, the median base salary for teachers in the Chicago public schools in 2011 was $67,974, according to the system's annual financial report.
Chicago Public Schools CEO Jean-Claude Brizard said that the schools had improved measurably in the past year in test scores. The graduation rate was the highest and the dropout rate was the lowest in history.
"With this agreement now we have the foundation for transformation," he said.
For high school athletes, strike could put scholarships on the line
CNN's Kyung Lah, Greg Botelho and Chris Welch contributed to this report.