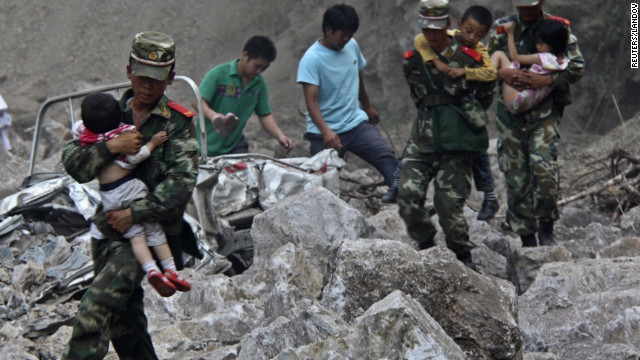 Soldiers carry children to safe ground after two earthquakes hit Zhaotong, Yunnan province, on Friday, September 7. Two shallow 5.6-magnitude quakes hit mountainous southwestern China, killing at least 80 people and forcing tens of thousands to leave damaged buildings, state media said.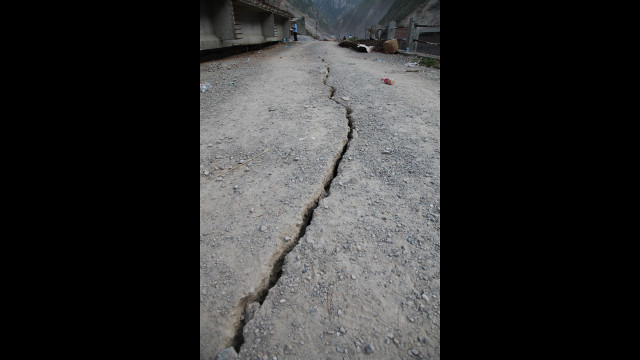 A crack from an earthquake winds through the ground in Luozehe Town in Yunnan province.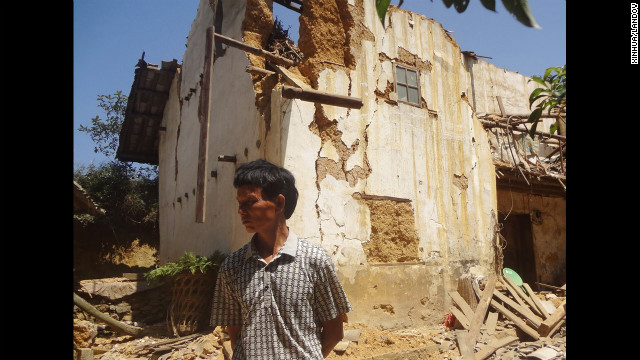 A man stands in front of a damaged house in Xinlong Village of Weining County, in Guizhou province.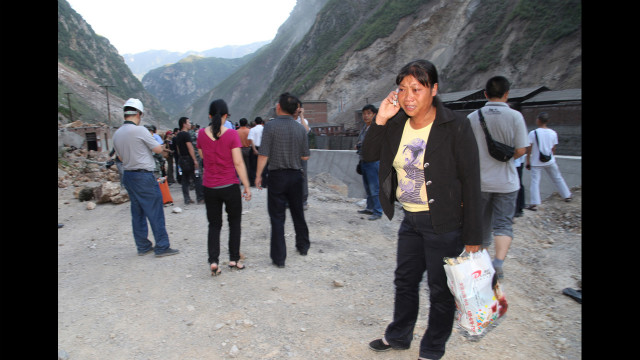 A woman cries while she makes a phone call on a blocked road in Yiliang, Yunnan province.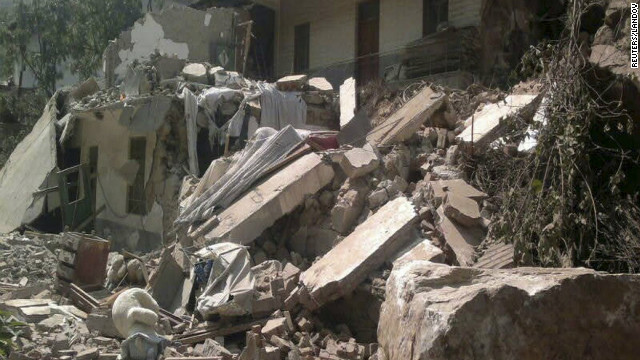 A house collapsed after two earthquakes in Zhaotong.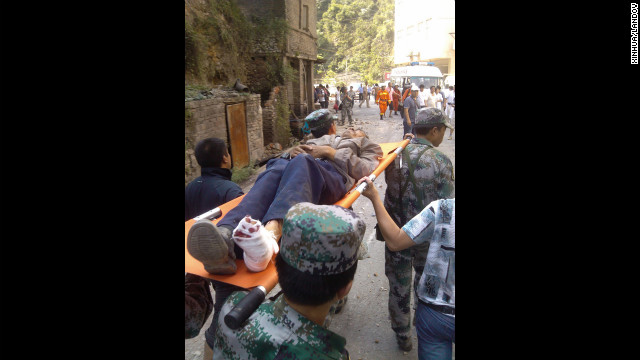 An injured villager is carried on a stretcher by rescuers in Luozehe Town, Yunnan province.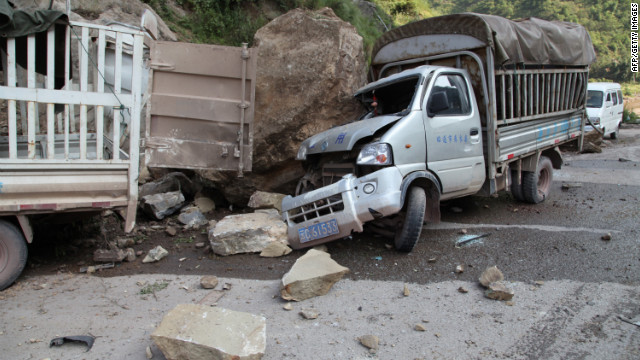 Damaged vehicles sit at a roadside in Yiliang.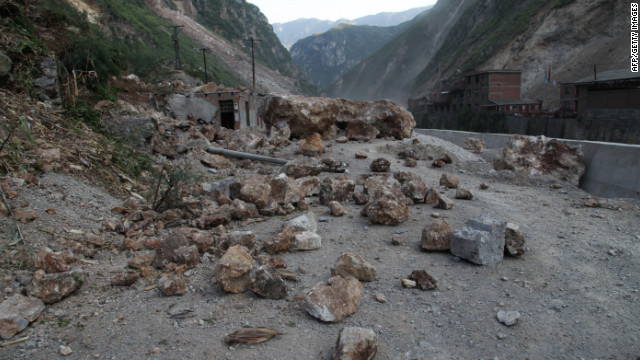 Fallen rocks block a road in Yiliang.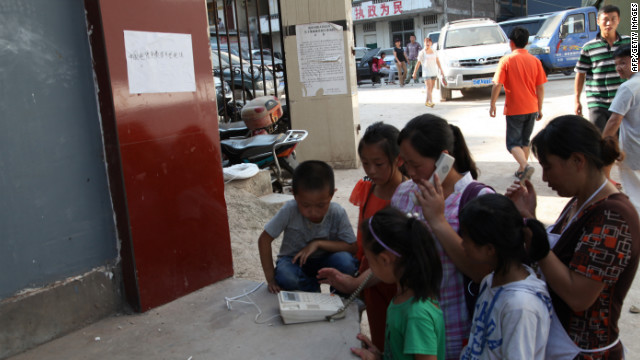 Survivors gather to make phone calls by a street in Yiliang.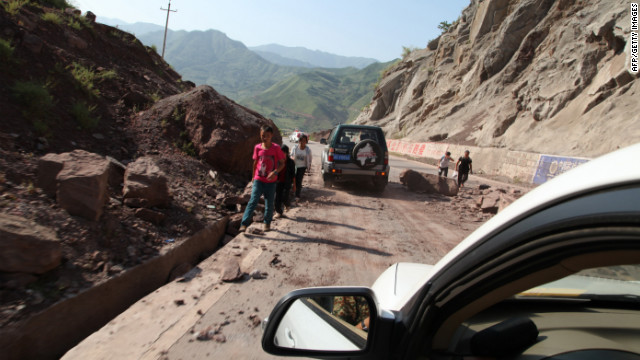 Vehicles make their way slowly along the road after rocks tumbled in Yiliang.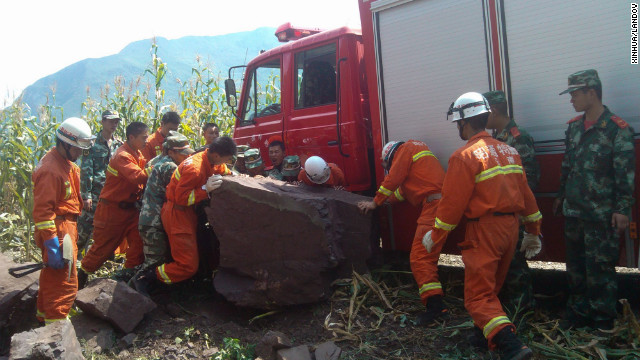 Rescuers remove a rock from a road in Yiliang.
Chinese Premier Wen Jiabao visits the affected areas
Tens of thousands are evacuated
Communication lines and other infrastructure are downed
Beijing (CNN) -- The death toll rose to 80 on Saturday after earthquakes rocked southwest China, destroying roads and communication lines, and forcing tens of thousands of evacuations, state media reported.
More than 700 others were injured in the Friday quakes, according to Xinhua news agency. Officials fear the death toll may rise as they scramble to reach affected areas.
Big rocks blocked roads, and communication lines and other infrastructure were downed, hampering rescue efforts.
About 100,000 people have been evacuated and 100,000 others are in need of relocation, state media reported.
Premier Wen Jiabao, who will direct rescue efforts, inspected stricken areas early Saturday and visited the injured.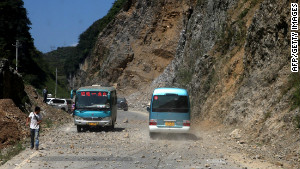 Deadly tremors strike China
Initial estimates put the "direct economic losses" from the tremors at more than half a billion dollars, the news agency said.
The four earthquakes struck near the border of Yunnan and Guizhou provinces, the U.S. Geological Survey said. Their magnitudes ranged between 4.8 and 5.6, according to the U.S. agency.
All four quakes struck at a depth of 10 kilometers (six miles).
The southwestern region of China is prone to earthquakes. In May 2008, a magnitude 7.9 quake in Sichuan province caused widespread devastation, killing at least 69,000 people.
CNN's Steven Jiang contributed to this report.